Clarmain Dental Centre is pleased to provide Invisalign® to patients in the Burlington area that are looking to receive orthodontic treatment.
---
What is Invisalign®?
Invisalign® is an orthodontic alternative to traditional metal braces. Invisalign® is composed of clear aligners, each aligner is specifically adjusted and manufactured to fit your mouth.
Invisalign® in Burlington: What are the benefits?
The aligners are practically invisible compared to traditional braces
It is considered comfortable and smooth
You can eat anything you'd like, unlike traditional braces
The aligners can be removed for easy cleaning
There are no brackets or wires
You can floss and brush your teeth like normal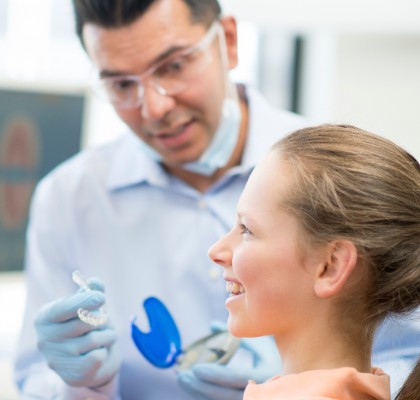 How do I start my treatment for Invisalign®?
To begin, we will take impressions of your teeth and create the Invisalign® aligners that you will wear daily. 
You will wear the Invisalign® aligners for a series of two weeks before moving on to the next set of aligners.
How often will I have to come for an appointment?
You will need to visit our office once every 4-6 weeks so we can monitor your progress throughout the Invisalign® orthodontic treatment.
We invite you to come in and meet with one of our dentists at Clarmain Dental Centre, for a no-obligation Invisalign® consultation. Request Appointment